Dengue is a debilitating disease that is spread by the bite of an infected female Aedes mosquito. According to the Indian Express, the number of dengue cases has crossed the 15,000 mark in West Bengal. Some of the more badly affected districts are North 24 Paraganas, Howrah, Hooghly, Murshidabad, Kolkata and Jalpaiguri. 
Given this backdrop, general medicine doctor in Kolkata, Dr. Amitabha Saha introduces you to the condition that is dengue, and tells you how you can stay safe from it. 
What is dengue?
Dengue is a vector borne disease that is transmitted from the bite of an infected Aedes female mosquito. There are 4 types of dengue virus or the DENV. In the four types of dengue viruses DENV 3 is most predominant at this time in Kolkata.  A person may be infected with any of these four versions. It is estimated that around 400 million people get infected each year but only 20% show symptoms. 
The Three Phases of Dengue
The dengue infection has 3 phases of evolution. They are as follows: 
This phase lasts 2-7 days and may be characterized by headache, muscle and joint pain, retro orbital eye pain, rash and minor hemorrhagic manifestations.
This phase lasts 24-48 hours and patients typically improve during this period, but those with severe plasma leakage can develop severe dengue.
The patient's health improves during this phase.
Note that the patient becomes ill once the febrile phase is over.
What Are the Symptoms of Dengue?
The symptoms of dengue last between 2-7 days. The symptoms are:
Fever

Aching muscles and joints

Rash

Pain behind the eyes

Nausea and vomiting

Facial flushing

Sore throat

Headache

Red eyes
Around 0.5 to 5.0% of dengue cases become severe. If this is the case, dengue can become life threatening.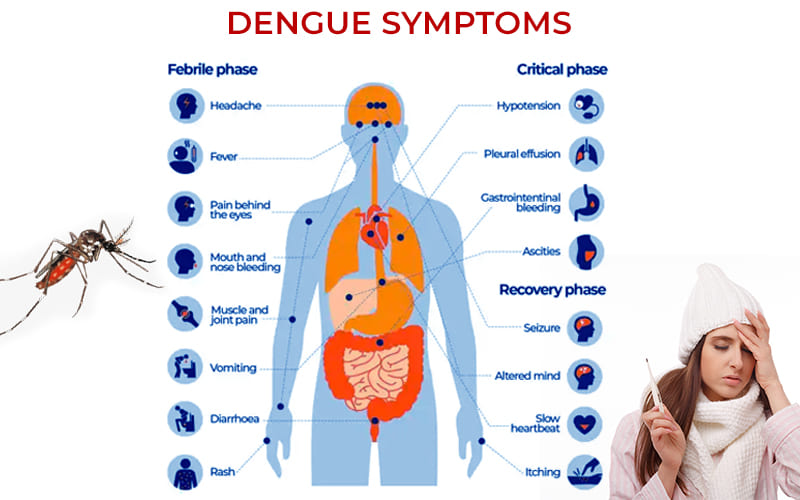 Why is Second-time Dengue Diagnosis More Dangerous?
The first time a person gets infected with dengue; their body produces antibodies against the virus to defeat it. However, if they were to get another strain of dengue in future, the body, for some unknown reason, is unable to destroy those viruses with the previously made antibodies.
Furthermore, having one type of dengue does not give you immunity from the same type of dengue or the other types.
Second time dengue causes more severe symptoms. Hence, according to this general medicine doctor in Kolkata, it is necessary to visit a doctor and be monitored the second time you are diagnosed as having dengue. Checking for Dengue NS1 antigen with Dengue IgG antibody is also important to understand any previous infection. Initially only dengue NS1 antigen needs to be checked, along with Dengue IgG to understand the presence of antibodies secondary to previous infection. Only after Day 5 of symptom onset ( Fever ) we may check Dengue IgM.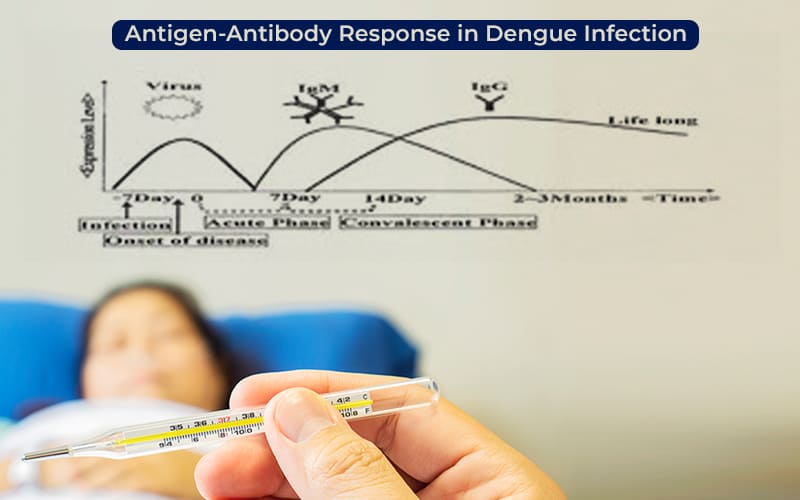 How Do Doctors Treat Dengue?
There is no antidote to this infection, it requires supportive care and good hydration at the initial stage. Antipyretics like paracetamol are required to control the temperature.
It is important to know that among all the blood parameters Haemo concentration is the earliest event to happen in the face of clinical deterioration. So regular blood parameters monitoring according to the guidelines is very important.
People are very afraid of low platelets count but it usually happens after the febrile phase gets over. So the platelet count may go down after the fever subsides. It is always advised to keep in touch with your physician when you have been infected with dengue.
Home remedies to increase platelet is not advised, as it may cause harm.
Dengue viruses cause trouble to the liver. Liver enzymes are usually high in this infection and may cause nausea commuting abdominal pain and sometimes it may cause severe liver injury.
When Should You Start to Worry?
It is very important to understand the warning signs when someone must attend the hospital emergency or out patient department.
Following are the warning signs:
Abdominal pain or tenderness

Persistent vomiting

Clinical fluid accumulation

Mucosal bleeding

Lethargy or restlessness

Liver enlargement >2 cm

Increasing HCT with rapid decrease in platelet count
Steps and Measures Taken By the West Bengal Government to Combat Dengue
The Government of West Bengal has taken steps to prepare for this outbreak by reserving beds in hospitals for the dengue patients.

They have also cancelled the leaves of the state and civic health employees.

Moreover, all medical colleges and hospitals, state general and super speciality hospitals have been requested to set up separate clinics to reduce waiting time at OPDs.

Furthermore, the Health Department has also made a request to private hospitals to charge rationally for malaria and dengue tests.
Conclusion
So if you have or suspect that you have dengue, do not hesitate to reach out to the best general medicine doctor in Kolkata, Dr. Amitabha Saha. He will help you with the diagnosis and medication so that your condition is monitored carefully.
Furthermore, you need to maintain your surroundings carefully, use mosquito repellents and mosquito nets at night. Also, prevent water and garbage from collecting anywhere as mosquitoes can breed in such areas.