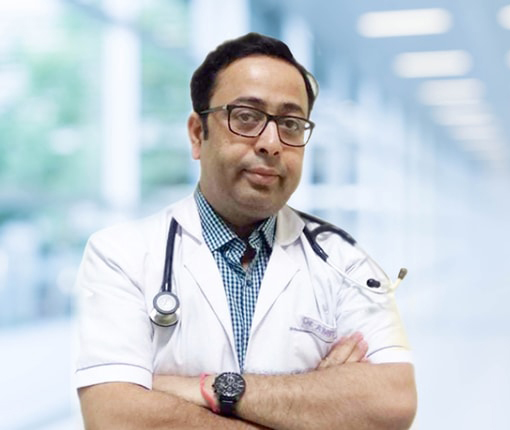 About Dr. Amitabha Saha
A highly personable, competent and team-spirited physician, Dr. Amitabha Saha holds 22 + years of practice experience. Devoted to exemplary patient outcomes and following all necessary medical procedures with the use of the latest industry equipment and Technology, he has been treating various ailments including Diabetes, Hypertension, Asthma, COPD, Pneumonia, Allergic Rhinitis and Asthma, Haemoptysis, Pleural effusion, Fatty Liver and other Liver Diseases, Gastrointestinal diseases and more.
Both critical and chronic ailments are treated in the Internal Medicine units. Emergencies are a part of life. Even after enormous care and maintaining a well-balanced lifestyle; a person may experience emergency medical situations that might need critical care. Some of the situations even can be life-threatening and may require extensive Critical Care units as well as the help of expert doctors in the relevant field. Dr. Amitabha Saha has immense knowledge, training and expertise in the Critical Care and Intensive Care area with an on-field experience of more than 22 years. He, with his team, can look after such critical situations with dedication and compassion and can do the needful that may include arranging life support or monitoring devices.
Education and Training
Dr. Amitabha Saha is a prominent name in Internal Medicine in Kolkata. He has commenced his MBBS from NRS Medical College and obtained his Doctorate of Medicine from IPGME & R, Kolkata. MRCP from Royal College of Physician, U.K., EDICM Diploma from European Society of Critical Care Medicine and MRCP (UK) ( Endocrinology and Diabetes) are some of the feathers that have been added to his list of degrees and diplomas subsequently. His superior diagnostic expertise, planning for treating every ailment and also implementation ability are the areas that made him lead the medical facilities to new statutes for the patients.
Professional Training and Experience Areas
Training in Surgery in the Department of Surgery, N.R.S. Medical College, Kolkata, as House Staff (1996-1997)
3 years training in the Department of Anaesthesia and Respiratory Care Unit in Institute of Postgraduate Medical Training and Research (IPGMER and SSKM Hospital), Kolkata during MD course in Anaesthesiology (1998-2001).
Trained in Echocardiography related to Intensive care and implementing this for intensive haemodynamic monitoring.
Trained in Ultrasonography in Critical care like FAST, eFAST, Lung Ultrasound and expertise in Ultrasonography guided procedures (Central Venous Line, Arterial Line, Intercostal drain, abdominal paracentesis etc).
Experienced in using Venous and Arterial Doppler.
Experienced in Renal Replacement Therapy in Critical Care patients.
He has been associated with Lifeline Nursing Home, Kolkata as In-charge of ITU & ICU, Intensivist & Critical Care Specialist in B.P. Poddar Hospital & Medical Research, Kolkata and presently Consultant, Critical Care Unit in Medica Superspeciality Hospital, Kolkata.