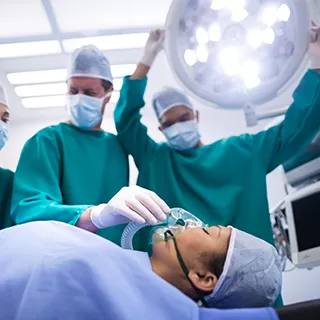 Who are ICU patients? 
ICU or Intensive Care Unit also termed as Intensive Therapy Unit and Intensive Treatment Unit (ITU) and known as Critical Care Unit (CCU) is a specific department within a hospital or healthcare centre that offers intensive medical care to people with chronic and lethal diseases or injuries. Patients admitted to the ICU require constant care and monitoring with the help of life support equipment and medication that ensures normal bodily functions. 
The staff of the ICU are highly trained physicians, respiratory therapists, nurses and others specializing in caring for critically ill patients. 
ICU patience is generally referred directly from an emergency ward or department or normal care ward in case their conditions are seen to deteriorate rapidly or if there is any emergency that occurred while or after a surgery leading to several health complications and life-threatening risk.
When does one require ICU care?
The most common necessities of ICU are – 
Traumatic brain injury

Cancer-related Intensive Care

Trauma

Sepsis

Stroke

Post-operative Intensive Care

Respiratory failure

Heart failure

Ruptured brain aneurysm

Shock

Cardiac arrest

Sudden fall in the level of consciousness

Repeated or prolonged seizures

Systolic blood pressure

Abnormal drop or increase in pulse rate

Threatened airway

Oxygen saturation

Abnormal increase or decrease in respiratory rate

Increased arterial carbon dioxide

Respiratory acidosis

Patients giving cause for concern

Life-threatening injuries

Cerebral attack

Complications occurred while or after a surgery
Who are more predisposed?
Gender – Irrespective of the gender of the patient ICU can be in need the condition of the patient is seen to uncontrollably deteriorate. An admission may be required during or post-surgery, severe injury or accident, respiratory failures, chronic disorders and more.
Age – ICU admission may be required for patients of all ages depending on the severity of the condition. One can get admitted in the ICU for rapidly deteriorating health conditions or serious accidents that may have caused damage to the parts of the body.
Pre-existing diseases – Pre-existing disorders when rapidly deteriorating may require the patient to get admitted in an ICU to receive Intensive Care that would help battle the concerning condition.
How Dr. Amitabha Saha helps ICU patients? 
Dr. Amitabha Saha just knows how to comfort the ICU patients so that the treatment procedure can be carried out without alteration in the heart rate due to panic. Besides, his experience of over 22 years and his vast knowledge makes him the perfect medical practitioner to go to in case of critical conditions. He has been working with ICU patients for years and has helped them recover soon.